05.12.2007
BenOdive ... ?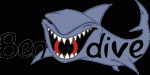 Bonjour à toutes et à tous!
Comme vous le savez maintenant BENE est devenu il y a peu instructeur de plongée. Cette activité ne perturbera nullement ce qui se passe dans le groupe mais dans un souci de développement pluriculturel il profite d'appronfondir ses connaissances dans le domaine et participera à l'enseignement de la plongée dans un concept nommé benOdive ou plongez avec BENE! :-)
Les news suivent encore!
REEL WEB
Hello to you all!
As you already know now BENE has become a diving instructor not long ago. That new activity will not intefeer with what is going on in the band but as he needs to develop new multicultural interests, studying and teaching diving will be a good start with a new concept which will be called benOdive or dive with BENE :-)
More news will follow about that subject!
REEL WEB