03.11.2007
Listen to "One Way" on reelmusic.ch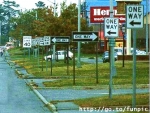 Bonjour à toutes et à tous,
Nouveauté du jour est que vous pouvez entendre sur le site la chanson "One Way" comme musique de fond. En intégralité!
Profitez un max de la chanson! Tout le plaisir est pour nous!
REEL WEB
Hello to you all,
The news of the day is that you can listen to the song "One Way" as background music. In full length! So enjoy it fully! It is our treat to you all!
REEL WEB