31.10.2007
Reelloween ...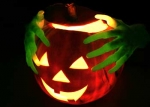 Bonsoir tout le monde, ce soir c'est Reellowwen! La soirée où tout de la REEL music peut vous faire peur!
Alors c'est "gage ou cadeau" ... à vous de choisir :-)
REEL WEB
Goodnight to you all, it is Reelloween! The night that all of REEL music scares you!
So it is "trick or treat" ... you choose :-)
REEL WEB