27.08.2007
Listen ... to the Dominion Noiz!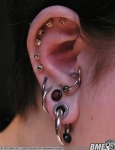 Voici les toutes dernières nouvelles de la part du groupe! Cette dernière semaine toutes les chansons dont leurs versions "final cut" furent écoutées sur tous les supports possibles afin de choisir la meilleure version possible. Ceci pour trouver la version idéale de chaque chanson. Ce travail sera terminé pour mercredi prochain, jour où le final cut de l'album aura lieu permettant de préparer le master!
Listen and rock on!
REEL WEB
So here are the last news of the band! This last week all the songs were listened to in their "final cut" version on all type of listening engines possible. All this is to have the best final version of each song. This work will be finished by next wednesday when the true final cut o fthe album will take place!
Listen and rock on!
REEL WEB