30.07.2007
Wonder ... Woman?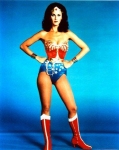 Voici quelques nouvelles additonnelles du studio!
En effet les boys y ont passé la grande partie de ce week end pour retravailler les nouvelles chansons. A force d'écouter les pistes, on fini par oublier certaines petites erreurs ou imperfections. Le gros du travail fut dédié à cela! Enlever les imperfections et corriger là où cela était nécessaire! Que de travail!
Bene a profité aussi de réenregistrer les parties vocales de deux chansons Don't You Stop Me et Empty Promises qui seront sur le nouvel album. La raison principale était de travailler une nouvelle interprétation de ces chansons pour donner pleine satisfaction à l'auditeur que vous serez prochainement.
Que vient faire Wonder Woman là dedans!? Tout simplement que parfois quand on pense qu'on avance plus, il faudrait un wonder ("miracle") pour débloquer la situation. Cela fut chose faite ce week end! L'album Dominion prend toute sa couleur. Et nous nous en réjouissions de vous faire partager tout cela très rapidement!
REEL WEB
So here some additional news from the studio!
Indeed the boys spent most of the week end in the studio and did some additional work on the new songs. Sometimes you listen to the tracks and after a while you lose the focus. You do not notice listakes or imprefections. So the main job was to listen to all tracks and erase those imperfections dn correct what is needed! A long process!
Bene also took the opportunity to rerecord some vocals for the 2 songs Dont' You Stop Me and Empty Promises which will be on the new album. The main resaon was to try something else while interpretating them so that for the listener that soon you will be, it sounds perfect.
So you might ask yourself what is Wonder Woman doing here? Well you know when sometimes you lose focus and track of what you are doing, a wonder would be agood thing to unlock the situation. In case it happened this week end! The album Dominion takes its full color! And it is with great joy that soon we will be able to present it to you all! Very soon!
REEL WEB