08.11.2006
Monstroso!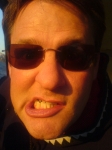 Un petit clin d'oeil de la la part de BENE depuis le bocal secret où les partitions de gratte sont revues et corrigées pour sonner au max! En effet le travail décolle et augmente sans cesse tant les idées fusent!
En tout cas cela sonne monstrueux!
REEL WEB
A small hello from BENE out of the secret pit where all guitars parts are being reshaped, redesigned and correct to sound like a blast! Work is really taking off and we are all entering a new stage with many new ideas just popping out!
All sound monstruous!
REEL WEB