15.05.2006
Nostalgia...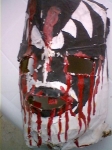 Parfois faire le nettoyage de printemps a quelque chose de bon. En effet dans une vieille caisse se trouvent deux masques à l'effigie de deux grandes stars de la rock music: Gene Simmons et Peter Criss! KISS le groupe suprême que tout jeune guitariste comme BENE voulait ressembler!
Nostalgie quand tu nous tiens! Tout simplement superbe de passer en revue les rêves de gloire musicale!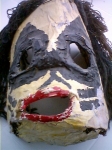 Sometimes spring cleaning has something of a special smell. Indeed in an old box 2 masks were inside representing the image of 2 of the greatest music stars in the world: Gene Simmons & Peter Criss. KISS the ultimate band, the ultimate dream for all young guitarist as BENE wanted to be one!
Nostalgia when you got us! Just great to remember such memories to the great glory of music!