19.06.2006
BENE's going to the Air Force!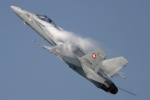 BENE est en route pour les 3 prochaines semaines au pour effectuer son service militaire! Il est opérationnel à la Base Aérienne de Payerne. Si vous le croisez, faites lui signe!
BENE will be at the military service for the next 3 weeks at Payerne's Air Base. If you see, say hi!