09.05.2006
Railtracks to Eternity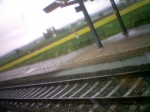 La vie est parfois comme les voies du chemin de fer! Par moment on se en gare avant que la machine ne se mette en route et vous lance sur les rails vers l'éternité.
Pour REEL cela est un peu pareil. En effet pour le moment le groupe est en gare, bien que pour le groupe la gare n'est pas une chose si grave que cela puisque cela est le studio en ce moment et ce dernier est très important pour une groupe de musique, mais diverses choses se décantent en ce moment et nous aurons la chance de vous en parler prochainement qui vont lancer comme jamais la machine REEL.
Les news arrivent! Merci de votre patience et de votre suivi au quotidien!
REEL WEB
Life can be like railtracks! Sometimes you are at the railway station waiting for the train to leave launching itself on the railtracks to eternity!
For REEL it is pretty much the same! Right now the band is at the railway station, but actually for the band that is not a worrying thing as the railstation means the studio and for a band to be in the studio that is pretty important, but many things are coming into rolling. we will tell you a lot pretty soon! The REEL machine is soon rolling to eternity!
New are coming! Thank you for your patience and your daily follow up!
REEL WEB