01.05.2006
Another happy birthday!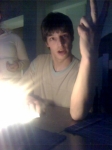 Que d'anniversaires et de choses à fêter en ce moment!
En effet entre le management, le groupe qui termine sa 1ère année d'existence et surtout l'anniversaire de notre batteur chéri JUL, que de fêtes, que de bouteilles ...
Happy Birthday JUL te souhaite toute l'équipe de REEL. Nous ne souhaitons que le meilleur!
REEL WEB
So many anniversaries to celebrate these days!
Indeed first the management then the band finishing the 1st year of existence and finally happy borthday to JUL our drummer! Enjoy it fully!
Happy birthday to you JUL wishes you the full REEL team! We wish you only the best!
REEL WEB