20.03.2006
REEL recordings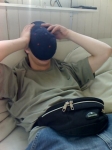 Nous venons de vivre un week end très intense au sein du studio Colors!
En effet le groupe s'est retrouvé pour enregistrer quelques chansons et avancer dans l'enregistrement du nouvel album. Des chansons comme One Way, Chorus, Heartbreaker et Don't Stop Me furent mises en boite!
Par contre le moment culminant fut les sessions de batterie de fou pour notre JUL national qui a transpiré comme un fou dans son T shirt! En effet pour enregistrer les chansons le maximum fut demandé de la part de notre batteur qui s'est donné comme un bête! Bravo encore!
REEL
It has been a very intense week end at the Colors Studio!
Indeed the band met to record a few songs in order for them to advance into the making of the new record. Songs such as One Way, Chorus, Heartbreaker, Don't Stop Me were recorded.
But the best moment during the week end was the drums recording. JUL had the chance to sweat his shirt recording the drums parts as we wanted only the best and he had to give his best! Great job JUL!
REEL