28.02.2006
Recording Time!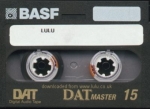 Nous profitons de ces instants uniques de calme pour vous parler un peu de ce qui se passe dans l'antre magique du studio Colors Music. Comme vous le savez depuis l'annonce du retour en studio, le groupe profite d'enregistrer un max de nouvelles chansons en vue du prochain album!
Voici un petit extrait live depuis le studio au moment d'une des séances de prise de son. Vous pouvez voir JAY en pleine action: jay.3gp (le fichier est en 3gp et peut être visionner avec quick time ou real player avec le codec adéquat! Ou sinon sur un téléphone portable de votre choix ayant la technologie video à disposition)
Concernant les chansons enregistrées les titres de travail sont Dominion, Walk The Fire, Turning Circles ... Un tas de surprises et de bonnes choses en perspective!
REEL WEB
We take the opportunity to tell you what is going on in the sanctuary of the Colors Music studio. As you already are informed the nad decided to go back to the studio and record as many songs as possible preparing at best the new album!
Here you will find a small sample of one of the takes. You can see JAY in full action: jay.2.3gp (the file is in 3gp and can be seen with quick time or real player with the right codec or on any mobile phone using video technology)
Regarding the songs recorded the working titles are Dominion, Walk The Fire, Turning Circles ... A lot of surprises and great new stuff to come!
REEL WEB