14.01.2006
TOWER records: welcome to America!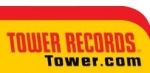 Bonjour tout le monde!
Aujourd'hui est un autre grand jour pour REEL puisque nous venons de recevoir l'information que le CD du groupe est en vente au sein du plus grand magasin de musique des USA: TOWER records!
En effet TOWER records est la plus grand magasin de disques, CDs etc ... aux USA! De quoi nous rendre fiers une fois de plus du travail accompli!
Nous profitons d'ores et déjà de remercier toute personne qui a acheté l'album soit sous forme de CD, en mode digital ou simplement une chanson chez un de nos partenaires! Il est important de redire que les prix sur les divers sites nous avons que peu voire pas d'influence et que nous nous excusons des divers prix proposés. Mais nous nous battons au quotidien pour que le prix reste accessible à tout le monde!
Merci d'être avec nous, cela est si important pour nous!
REEL ROCKS!
Hello to you all around the world!
Today we have some great news for you as we have just been informed that the Album is being sold in the greatest music through the US: TOWER records!
Indeed TOWER records is the biggest shop of records, CDs etc ... through the states! That can only make us proud of the work done here!
Therefore we would like to take the chance to thank everybody that has bought the album as CD or in digital mode, or a song of the album by one of our partners! Thank you! Also we would like to remind you all that the prices change from site to site and that we have little to say about that. We apologize for that but we keep pushing everywhere to have the best price possible for everybody!
Thank you to be with us, it means so much!
REEL ROCKS!