10.01.2006
It's a hard job!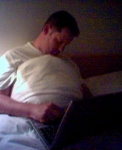 Ah que le travail est dur et source de fatigue!
Même notre guitariste/chanteur/compositeur et bloggeur BENE ne tient pas la distance! Comme vous pouvez le constater! Chut faites pas de bruit en sortant et surtout ne claquez pas la porte :-)
Well it's hard keep up the job and falling asleep is possible!
Even our guitarist/songwriter/singer and blogger BENE can not keep up! As you can see it on the picture! Please do not make any noise and do not slam the door on your way out :-)