25.11.2005
Rising of the morning sun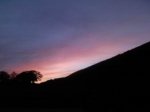 Il y a des matins comme cela où le temps peut s'arrêter pendant quelques minutes! Où chaque seconde peut paraître une éternité! Cela est dans ces instants qu'on peut ressentir ce sentiment cosmique d'exister pleinement! Arriver à s'arrêter pour apprécier un tel moment est preuve d'une très grande richesse!
Ce jour de soleil levant mes pensées vont à Thomas sans qui rien n'aurait été possible, n'aurait eu lieu! Merci à ce frère de musique disparu trop rapidement dans notre aventure musicale! REEL et moi nous ne te remercierons jamais assez!
Repose en paix!
BENE
There are mornings where time stands still, Where a second can feel like eternity! It is in these moments that we can feel all the cosmic issue within! Just to stop and enjoy it is a proof of full richness!
On this day with the rising of the morning sun my thoughts go to Thomas. Without knowing him nothing would have been possible, nothing would have happened! I thank my brother in music for this true great adventure! REEL and I will never enough thank you!
Rest in Peace!
BENE