11.11.2005
MMS CONTEST for the release of the album "Lithium"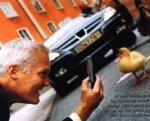 Pour la sortie de l'album "Lithium", nous organisons un grand concours MMS. En effet rien de plus simple pour participer: Il vous suffit de prendre une photo avec votre mobile contenant le mot Lithium et nous la faire parvenir à l'adresse suivante info@reelmusic.ch - Les 5 MMS les plus fun, les plus fous seront présentés ici sur le site web du groupe & ils gagneront bien sûr un album!
Délai de participation: Le concours dure du 11.11. dès 12h00 jusqu'au 01.12.2005 minuit - les différents vainqueurs seront contactés directement par le management du groupe pour recevoir le prix!
Il ne vous reste plus que de trouver le mot Lithium sur terre et que les 5 meilleurs photographes MMS gagnent!
For the release of the forthcoming album "Lithium" we launch a big MMS contest. How to enter it? very simple ... just send a MMS with a picture of the word Lithium to info@reelmusic.ch - The top 5 MMS will be shown on the web site and will win the album.
Deadline: The contest will go from 11.11. 12h00 until 01.12.2005 midnight. The winners will be contacted directly by the management in order to receive the prize!
So get to your mobile and search the world of the word Lithium and may the 5 best MMS picture takers win!
REEL MOBILE