05.11.2005
Samples of all songs from Lithium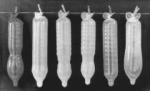 Something for all of you! A sample (about 45sec) of each song of the Album Lithium. The samples are produced in mp3 format (128kbs - 44000 Hz)! Enjoy to listen to each sample of the songs!
Voici enfin quelque chose pour vous! Les échantillons (env 45 sec) de chaque chanson de l'album Lithium. Les échantillons sont en format mp3 (128kbs - 44000 Hz)! appréciez et dévouvrez les!
Here they are! Les voici!
Play it loud! Mettez le son au max!
REEL BAND