26.10.2005
Number # 200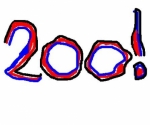 Yes we can celebrate it! Our 200 note is today!
Thank you to all of you to follow the crazy musical adventures of REEL.
We are so proud to have you with us on this incredible journey down the roads to Babylon!
Eh oui quelque chose a célébrer! Ceci est la note 200!
Merci à toutes et à tous de suivre quotidiennement les folles aventures de REEL.
Nous sommes très fiers de vous savoir avec nous sur ce voyage incroyable sur les routes de Babylone!
REEL BAND, WEB, MANAGEMENT & of course ... MUSIC