02.11.2005
Mastered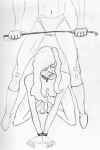 Voilà nous y sommes ... Après un long trajet de plusieurs mois le moment tant attendu est enfin arrivé. L'album est mastérisé ... dompté telle la bête qui ne voulait se rendre ... Le mastering est fait! Quelle joie et quel moment de bonheur au moment du pressage final du fameux red book, le CD qui servira à la production!
Un autre moment magique fut quand Glenn Miller (plus de 100 disques de platine & d'or) écouta le mix pour la première fois et laissa faire ses oreilles et ses doigts sur la table de mixage pour booster au max les chansons de l'album. Aussi un grand moment magique de savoir que Glenn prend le temps entre deux pointures comme Tina Turner et Phil Collins pour mixer l'album de REEL. On se sent un peu superstar! Le plus extraordinaire est d'être en face d'une légende vivante de la musique! Impressionant et surtout super cool comme personne! Une vraie personnalité!
Maintenant le fun qui se présente devant nous est de vous faire découvrir tout cela. Tout se prépare en coulisses et dès demain les surprises commençeront à arriver! Enfin quelque chose pour vous!
Well here we are at last ... After all these months of waiting and working this moment in time has come. The album is mastered like the unleashed beast it was at start. Finally we got it mastered and it sounds great! The mastering is done!
What a joy that moment was when the famous red book was produced, the CD with which all others will be printed!
Another great moment was when Glenn Miller (more than hundreds of platinum and gold albums) listened to the mix and let his ears and hands work on the mixing table boosting the songs to the max. Also to know that time was taken to mix the album between superstars like Tina Turner and Phil Collins can only bring joy to our hearts. We felt almost like superstars! Actually it was great to have a chance to talk to a legend in rock music and history! A great guy!
Now all the fun that will come will be finally for you all to discover. You've been waiting for this ... Now your time has come! Many things happening backstage! stay tuned and surprises and getting ready for you!
REEL BAND & WEB