12.08.2005
NO to DRUGS!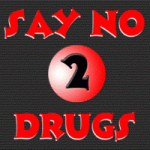 Bonjour à toutes et à tous,
Suite aux événements de ces derniers jours nous souhaitons transmettre le message suivant:
Quoi qu'il puisse vous arriver dans la vie, Dites NON à la drogue! NO to drugs!
Rien ne vaut de mourir suite à la consommation de drogue de quelque nature qu'elle soit!
Dites OUI à la vie car il y a toujours une solution à toute situation!
REEL Band