« 2008-02 | Page d'accueil | 2008-04 »

13.03.2008
Colors Music 2.0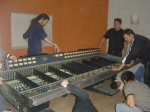 Bonjour à toutes et à tous,
Le relooking et les transformations du Studio Colors touchent à leurs fins respectives! En Annexe nous vous avons mis l'album photo correspondant avec l'arrivée et l'installation de la nouvelle table de mixage de la nouvelle régie!
Profitez de faire le guided tour!
REEL WEB
Hello to you all!
The new look and the several transformations done at Colors Studio come to a final end. In the album photo collection you will find some pictures of the studio with the arrival of the new mixing table for the new recording studio!
Enjoy the guided tour!
REEL WEB
05.03.2008
Happy Birthday Jay!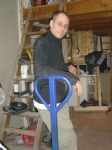 Avec un peu de retard nous profions tous de souhaiter un excellent anniversaire à Jay. Eh oui le 21 février dernier il a pu souffler une bougie de plus :-) Joyeux anniversaire Jay!
REEL WEB
With some delay we wish a very happy birthday to Jay. Indeed on february 21st he blew one more candle! :-) Happy birthday Jay!
REEL WEB